32 Most Popular Adventures
Below are 3 of the most popular boating adventures ..Most popular boating adventures ..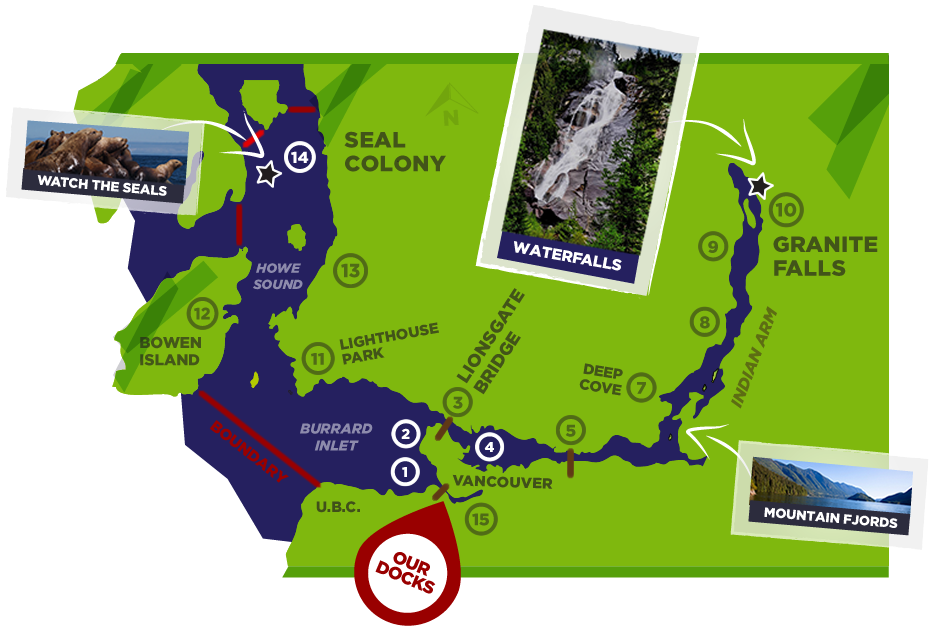 What attractions excite you? Why not not make up your own route, you are the captain of your own adventure.
Explore the coast by boat ..
What attractions excite you? Why not not make up your own route, you are the captain of your own adventure.
English Bay is Vancouvers' most popular beach, right in the heart of downtown.Summer sees it packed with people sunbathing, swimming, and taking in the wonderful sunset. This bay is dotted with boats,kayaks and people generally enjoying Vancouver's waters.
Stanley Park is a 1,001-acre public park that borders downtown Vancouver and is almost entirely surrounded by the waters of the Pacific Ocean. While out in the bay you will have the best view of this wonderful park.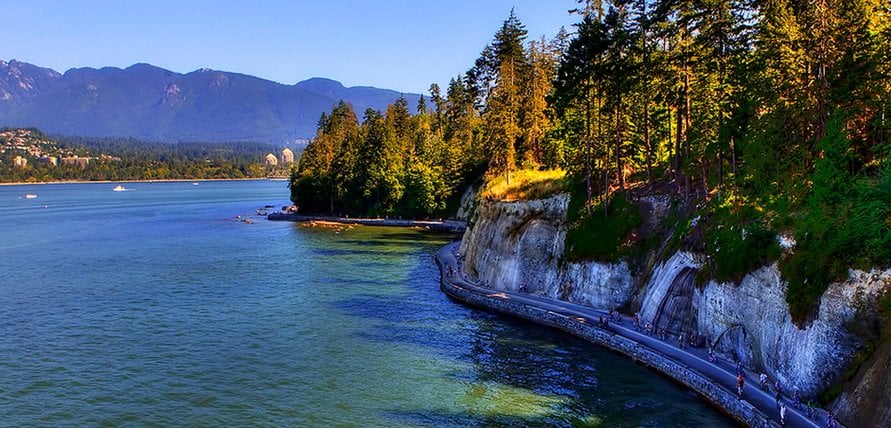 Opened in 1938, Lions Gate Bridge is a magnificent suspension bridge. Many people visit this bridge each year as it is a must see, especially from the water. Boating under this bridge allows you to really appreciate its true size.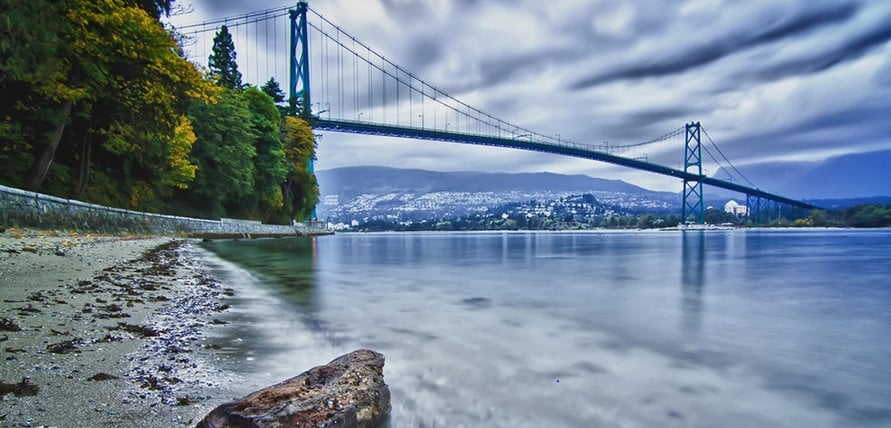 Coal Harbour is centrally located in the heart of downtown Vancouver. It is one of the most spectacular harbours in the world. From your boat, view the Vancouver skyline and some of the largest yachts in the world.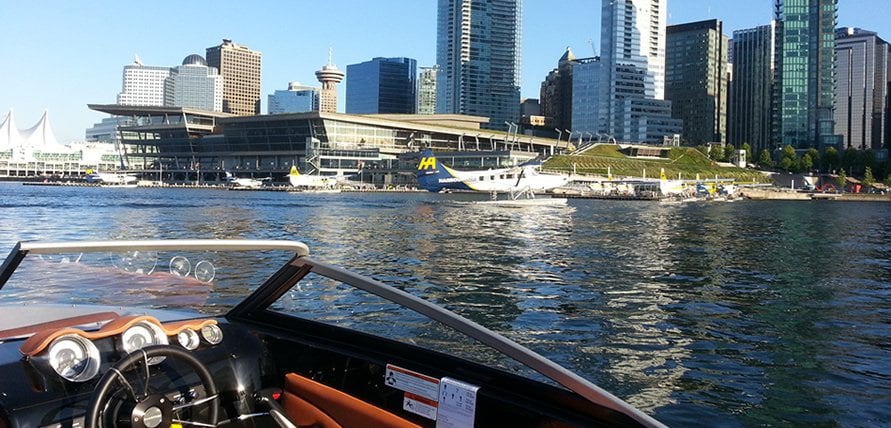 When navigating from Coal Harbour towards Indian Arm you will pass under two historic bridges.The original, Second Narrows Bridge, was the first bridge to be built but because of it being so low it was damaged over the years by large boats hitting it. The present, larger Iron Workers Bridge was built to replace it.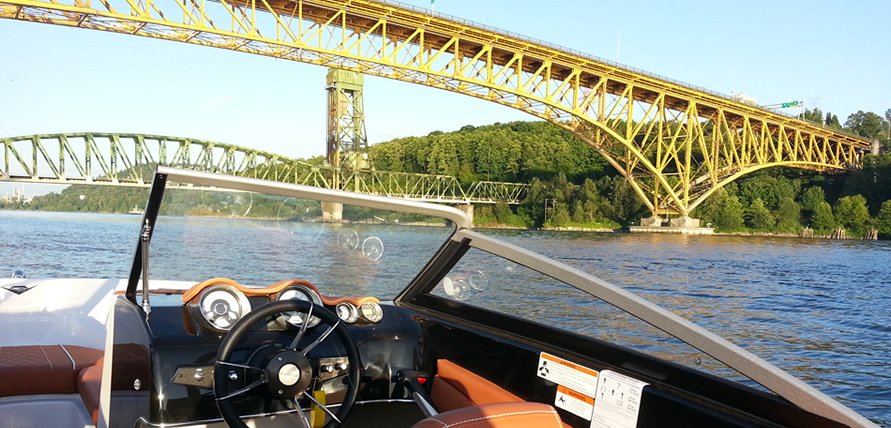 Deep Cove , a beautiful little coastal community, is nestled just at the start of Indian Arm,. The large public dock allows you to get out and enjoy the many places to eat, ranging from coffee, donuts and ice-cream.On leaving and heading further north look out for the boat access only homes on the shore line.
About half way up Indian Arm you will find a large concrete building known as the Buntzen Power Station. Built in 1914 Buntzen Power Station was powered by water to supply electricity to Vancouver. Today it is unmanned and operated only by remote control by BC Hydro.
You will be truly amazed while boating through this scenic fjord known as Indian Arm. Even though its only a short boat ride from downtown it feels like you are miles away from everything, it is so peaceful. The spectacular mountains are breathtaking and you won't be able to take enough pictures.
You will find these beautiful Granite Waterfalls at the top of Indian Arm . They are in full flow just after the snows melt. Many people swim in the falls all summer long, as the surrounding waters are so calm. This is a great area to relax for a few hours.There is a mooring dock provided here to facilitate your stop off.
Lighthouse Park is home to the Point Atkinson Lighthouse which was built in 1875. It is a great spot to relax on the water, taking in the views of surrounding homes and the Lighthouse which lights up the bay at night. This is the most popular spot to take in the sunset from the water.
Snug Cove on Bowen Island is a beautiful seaside village. It is a great place to stop off for a bite to eat at one of its popular restaurants or pack yourself a picnic to be enjoyed by the water. Bowen Island is ideal for walking around and has several beaches for taking a swim on those hot summer days.
While boating up Howe Sound towards the Seal Colony, you will be in awe of all the amazing homes that dot the shore line. These homes are some of the most expensive homes in Vancouver and you can see why. People rent boats, just to have a look at these homes, as you get the best view of them from the water.
Pam Rocks is home to a colony of around 150 harbour seals, watch them play in the water and jump onto the rocks. While there you may even spot a majestic bald eagle soaring overhead as the National Bird Reserve lies just north of Pam Rocks. This is a wonderful boat ride if you are for looking for wildlife.
False Creek is a peaceful harbour, perfect for a calm boat ride. While boating here you will pass under many of Vancouvers' bridges and get up close to Vancouver's two stadiums, BC Place (football) and Rogers Arena (hockey). False Creek is a great place to enjoy fabulous views of the city.