Secluded Seaside Village ..
Looking for an amazing boat rental adventure to a scenic island? Then taking a trip to the Bowen Island in the Howe Sound is the place to go.
Bowen Island is one of Granville Island Boat Rentals many wonderful destinations that you can experience only by boat.
Trip Features ..
– 3 Hour Round Trip
– Explore Bowen Island
– Have a Picnic
– View Spectacular Scenery
– View the Scenic Lighthouse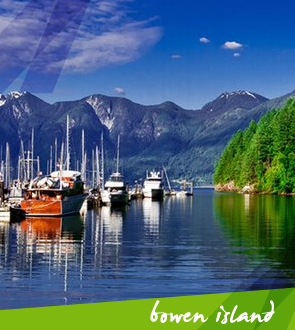 Bowen Island is a beautiful secluded island only a short trip from our Granville Island Boat Rentals location. It has become a favorite spot for locals and tourists for its quiet and relaxed surroundings. While there, enjoy Bowen Islands wonderful restaurants, beaches and hikes just minutes from the dock.
Your Bowen Island adventure begins at our Granville Island Boat Rentals office, in the heart of downtown Vancouver. Within about 45 minutes you will be docking at the beautiful seaside village of Snug Cove, on Bowen Island. While making your way there enjoy the amazing sights from English Bay, passing the famous Stanley Park and Vancouver City Skyline. Continue west towards the scenic Light House Park where you will see some unbelievable homes along the shoreline and you may be lucky enough to spot a school of dolphins jumping out of the water and catching the waves from the boat. Then just around the corner after this exciting boat ride you will see Bowen Island, where you will make your way into Sung Cove to dock.
Bowen Island is loved for its quiet and relaxed vibe and most people love to just wander around the island. If you are looking for more to do just up from the marina is the entrance to Crippen Regional Park which has some lovely hikes which can lead you to the Killarney Lake (40 minute walk) and there are also some picnic areas to enjoy along the way.
After all your exploring why not check out some of Bowen Islands highly rates cafes and restaurants. Some favorites of our renters include Tuscany Pizza, Doc Morgans Pub & Restaurant, Rustique Bistro and The Snug Cafe. One of the most popular things to do, is to phone ahead to Tuscany Pizaa and have your pizza ready when you get there. Then enjoy it on the boat at the scenic Lighthouse Park while watching the sun set behind Bowen Island as you make your way back into the city.
Choose from our four different style boats and reserve your Bowen Island adventure today. The boats range is size from 16ft / 17ft Hourston Glasscrafts, 18ft / 21ft GT Deluxe Speed Boats. All of our rental boats are fitted with modern Yamaha or Mercury engines which are world renowned for their reliability and ensure you feel safe while you explore the waters on your boating adventure. Granville Island Boat Rentals has been serving all of Vancouver's speed boat rental needs since 1982.
Please keep in mind that on windy days this trip isn't recommend and we would recommend going east towards the mountain fjords of the Indian Arm and the Granite Waterfalls.
Book your Bowen Island adventure with us today, for an unforgettable journey with you as the captain.
Places to Eat
Places to eat on Bowen Island ..
– Tuscany Restaurant – Top Pick !!
www.tuscanypizza.com
https://www.tripadvisor.com/Restaurant_Review-g183738-d5093218-Reviews-Tuscany_Pizza-Bowen_Island_British_Columbia.html
– Doc Morgans Marina Pub and Restaurant
www.docmorgans.ca
https://www.tripadvisor.com/Restaurant_Review-g183738-d703807-Reviews-Doc_Morgan_s_Marina_Pub_Restaurant-Bowen_Island_British_Columbia.html
– The Snug Cafe
www.snugcafe.ca
https://www.tripadvisor.ie/Restaurant_Review-g183738-d3385979-Reviews-The_Snug_Cafe-Bowen_Island_British_Columbia.html
– Shika Provisions
www.shikabowen.com
https://www.tripadvisor.com/Restaurant_Review-g183738-d6673211-Reviews-Shika_Provisions-Bowen_Island_British_Columbia.html
– Artisan Eats
www.artisaneats.ca
https://www.tripadvisor.com/Restaurant_Review-g183738-d2298205-Reviews-Artisan_Eats-Bowen_Island_British_Columbia.html
– Rustique Bistro
www.rustiquebistro.com
https://www.tripadvisor.ie/Restaurant_Review-g29141-d386744-Reviews-Rustique_Bistro-Aspen_Colorado.html
– Old Orchard Grill
www.oldorchardgrill.ca
https://www.tripadvisor.com/Restaurant_Review-g183738-d8285898-Reviews-Old_Orchard_Grill-Bowen_Island_British_Columbia.html
– Lime and Moon Pie Company
www.limeandmoon.com
https://www.tripadvisor.ie/Restaurant_Review-g183738-d5097841-Reviews-Lime_and_Moon_Pie_Company-Bowen_Island_British_Columbia.html
– Bowen Island Roasting Company
www.bowencoffee.ca
https://www.tripadvisor.com/Restaurant_Review-g183738-d10146359-Reviews-Bowen_Island_Roasting_Company-Bowen_Island_British_Columbia.html